Some people already have it, some people are still searching for it – nevertheless, sometimes finding a home is not easy. Does it necessarily have to be where you were born? What do you need to belong to a place? Yehudit, Dina and Saliha moved to Germany at various times. During an interview with Nadav Glick, Nida Abufarha and Eylül Tufan the three talked about settling down, the feeling of belonging and their identity conflicts.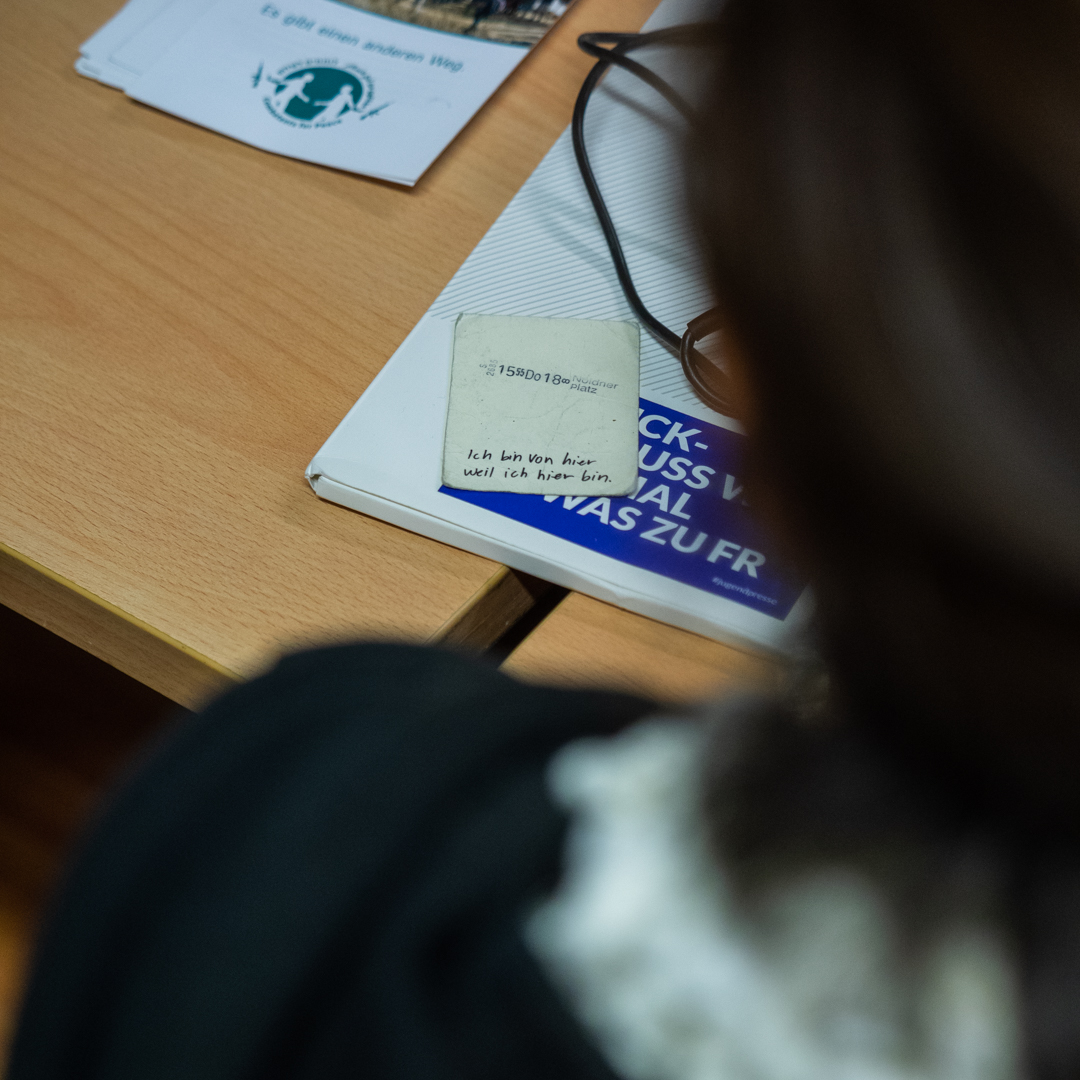 politikorange: Yehudit, where is home for you?
Yehudit Yinhar: Home is where I am surrounded by people who I love and appreciate and where I am an active part of society. I am privileged to have many homes. Some are in "Germany", some in "Israel_Palestine" aswell as in the "USA", where I grew up.
Do you feel like you belong in these places?
In a way I feel I can belong anywhere. I have the privilege of freedom of movement and thus have more influence on where I want to be/belong. Still the places I have grown up in or lived at are somehow more personal for me because they have influenced who I am.
How is your awareness of injustice linked to your identity as a political activist?
Wherever I go, I recognize injustices and this makes me emotionally involved somehow – no matter where it takes place, and I can't really look away. Injustice is injustice. Thus, it is important to ask ourselves whose voice is heard and how to create space for those voices that are not heard, wherever they may be.
Did you speak about the issue of identity with your parents?
The Jewish Israeli society is strongly defined by its Collective Identity. You are part of a system and that system is a part of you. I often feel that when I criticise the politics of "Israel" or the concept of Zionism people feel personally attacked or threatened. I think it has become easier for me to question "my narrative" since living outside of it and this makes it hard sometimes to speak with close family or friends because it is like we don't share a mutual language anymore, even though my vision of equal rights for all includes them of course. And although we sometimes disagree or don't understand each other, my parents appreciate my "not being able to not speak up".
Do you feel that your non-nation way of living harms you in any way?
In my experience as a peace activist – but also in other contexts–, when I find myself outside of the mainstream it can be very lonely. Like for example last year I was with my family in "Israel_Palestine" during the Pesah Holiday, which had coincidentally fallen on the same day as Land Day and the March of Return in Gaza where civilians were being shot and killed by the Israeli Army. It was so absurd and tragic. It is very frustrating when you have so much to say and so few who want to listen. This is one reason it is so important to have partners and safe spaces where there is a mutual language being spoken and systems of support. I feel that my "non-nation way of living" is a privilege and therefore comes with responsibilities, especially towards those who do not enjoy these freedoms.
Yehudit Yinhar, 33
Yehudit is an artist and peace activist who stands against injustice – no matter where it happens. For this reason, she sees herself as a world citizen. She was born in Israel, grew up in North Carolina and has been living in Berlin for 8 years.
politikorange: Dina, what is home for you?
Dina: Home is where the people you love are. But it is also a place where you feel respected and accepted in the way you are. The place you live in does not necessarily have all these things together – mostly it is where your family are and where you can be yourself. You belong to the place where you feel comfortable and happy – it is the place that takes most of your thinking and feelings.
You have been in Germany for two months now – do you feel at home?
Not yet. I am new here, I am still learning German. There are things in everyday-life here that I have not got to know yet.
What are your first impressions of Germany?
I have to admit it is a bit cold here, but Germany is one of the best countries: there is much value for life, human rights and a lot of culture. Also, the system is very organized – you have rules and laws how to govern. You feel protected. It is possible that Germany will become my home one day; but it is maybe too early to say.
Do you miss your home country Palestine?
Yes, of course. I miss my family and friends. I miss my work and my social life. Right now, that is a bit less because I am new here. What are you doing to make your new place more like home? I try to understand more about the culture and to get to know people. I think I will understand much more when I feel comfortable here. Sometimes there are cultural differences – people are quick to judge. So, I try to understand where they are coming from and why they act the way they do.
What does identity mean to you?
It takes a lot of experience to know what identity is: Identity means who you are and what your values are. Part of it is also your history, part of it is where you are now, and part of it is where you see yourself in the future. Whether you like it or not, you cannot separate yourself in the present from your past or your future.
Dina, 32
Dina moved to Cologne for her master's degree just two months ago. Although she already feels a bit German and drinks more beer than before, she still wants to go back to her home country Palestine – for now.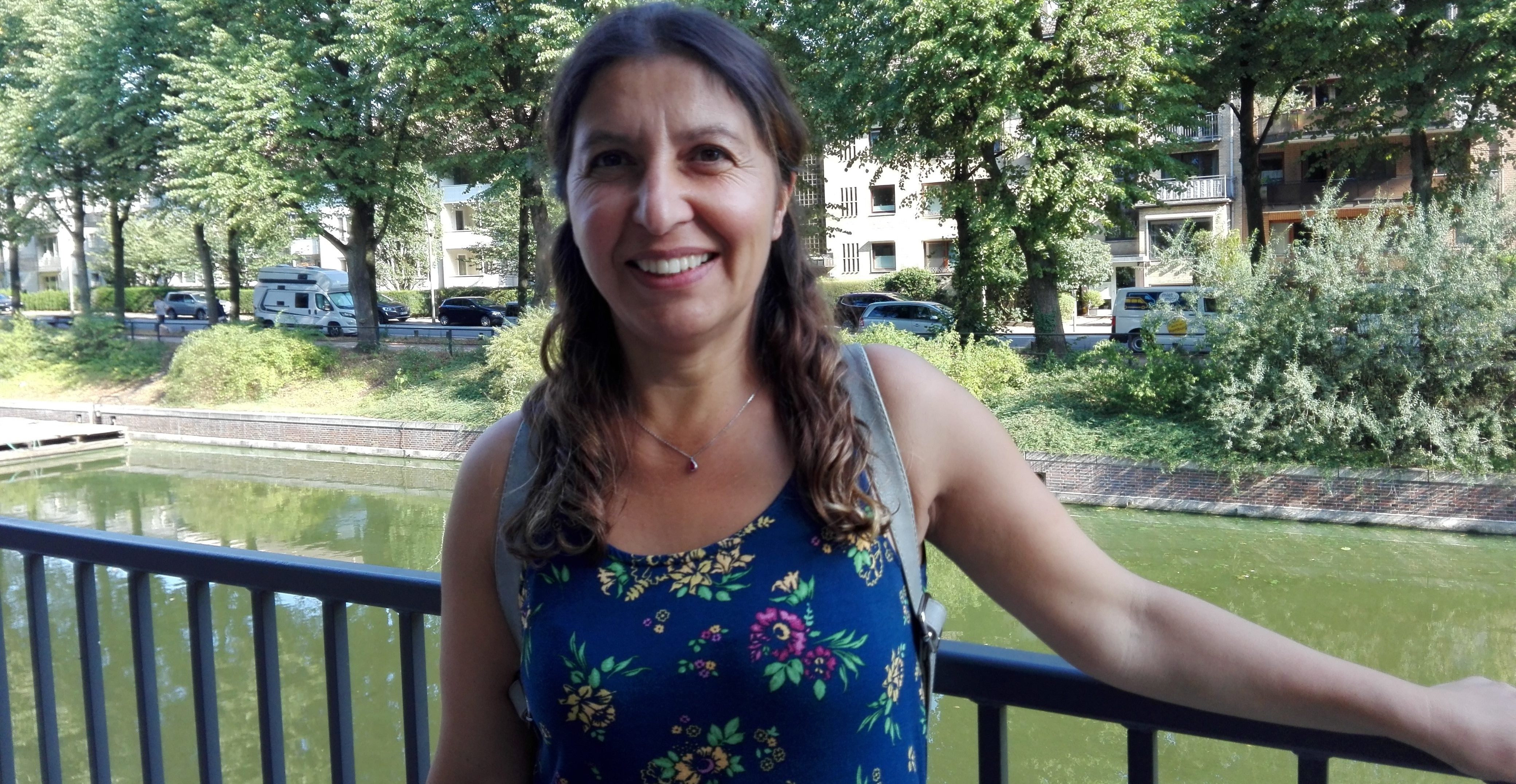 politikorange: Saliha, what is home for you?
Saliha Tufan: Home means to feel understood and to feel like you have arrived. It is the place where you feel comfortable.
What defines home for you?
It is the place where I have lived the longest in my life – that is Germany in my case. It is the place where I went to school. My partner also lives here, my children were born here. I know this place and that makes it home for me.
How old were you when you immigrated to Hamburg?
In 1972 my mother immigrated to Germany – as a "guest worker". I was two years old at that time and stayed with my grandparents in Turkey. After a year my parents brought me and my older brother over. But then there was a time when my parents did not know whether they wanted to stay in Germany or not. Thus, they sent me back to our relatives in Turkey. My parents then again brought me to Germany and again sent me back to Turkey. I was six years old when I started school in Germany – and after that I did not move to Turkey again.
Do you want to go back to your home country one day?
Right now, I do not have plans to go back. There is no reason left for me to go there when my parents die. I want to stay in the place where my children are. Otherwise we will be separated – and I do not want my children or grandchildren to experience the same as me. But I can imagine travelling between countries and spending half of the year in Germany – and the other half in Turkey.
So, you consider yourself German?
No, because I am also Turkish. I am both – German and Turkish. I have Turkish roots; me and my parents go to Turkey during every summer holiday. But I have been living in Germany for a long time now.
Do you feel that you have an identity conflict because of your family's migration story?
Actually no, the situation is clear for me: I am travelling to Turkey to visit my parents; I speak Turkish with them. I know the place, the culture – it is familiar to me. But it is the same for me when I am in Germany, too. I fit in because my family and work are here. I do not see a conflict there. I am Turkish when I am in Turkey and German when I am in Germany.
Saliha Tufan, 48 years old
Saliha is the second generation of her family living in Hamburg: here parents immigrated as "guest workers" in the late 60s. She has two identities – since she knows life in her home country Tukey and her home Germany.